KHEAA Outreach Services
Outreach Presentations
Check out our outreach presentations for targeted workshops, many of which are aligned with the Kentucky Department of Education's Core Content for Assessment of Practical Living/Vocational Studies.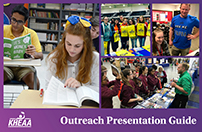 Getting In Presentation
KHEAA's Getting In presentation is available for immediate download and use by school counselors and other college access contacts helping students navigate this popular resource publication. Please free feel to use this presentation on your own with students or to contact your regional outreach counselor to schedule the workshop.
Note: Given the technical and frequently changing nature of KHEAA's grade-specific college admissions and financial aid presentations, other workshops included in the KHEAA Outreach Presentation Guide are presented exclusively by our trained outreach staff to ensure the provision of accurate and up-to-date details.